2013 BRAND Preceptor Recognition
University of Wyoming faculty and students work with "preceptors" - nurses who mentor students in a variety of clinical settings. In 2010 the Fay W. Whitney School of Nursing (FWWSON) introduced a new award to recognize preceptors, especially those who go above and beyond. Students nominate preceptors for Preceptor Recognition Awards from each of the school programs.
Aaron Wright, RN, BSN
The preceptor chosen from the BRAND program is Aaron Wright, who is employed in the emergency room (ER) by Ivinson Memorial Hospital in Laramie, Wyoming. The University of Wyoming School of Nursing student who wrote the winning nomination said,
"Aaron was an excellent preceptor to have during my ER rotation. He always pushed me to try new things and to try again if I failed the first time. The ER is an intense place to intern and he always made me feel comfortable and competent. He quizzed me a lot and if I didn't know the answer we went over the information until I knew it well. He is a very skilled and knowledgeable nurse. I feel lucky to have had him as my preceptor." – BRAND student 2012

[Note:  Aaron Wright is a current student in the UW FWWSON Doctor of Nursing Practice Program and is also a graduate assistant for the school.]
The FWWSON presented the award to Wright at the annual Nightingale Ceremony on the University of Wyoming campus this fall.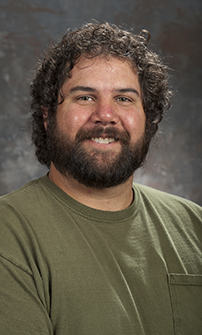 2013 BRAND Preceptor of the Year Award Recipient