Job Listings
Executive Level Job Listings
DEAN - COLLEGE OF AGRICULTURE & NATURAL RESOURCES

The University of Wyoming (UW) invites applications and nominations for the position of Dean, College of Agriculture and Natural Resources. The new Dean will serve as a passionate advocate and enthusiastic champion for the College's mission to improve the quality of life for people in Wyoming and the global community through implementing UW's land-grant mission in teaching, research, and extension.
The Dean is the chief academic and administrative officer of the College of Agriculture and Natural Resources, with responsibility for the academic and outreach leadership of the College and the management of its resources, including faculty and staff, physical facilities, and budget. The Dean will oversee the College's critical research and educational programs that address the needs of the State and fulfil its vision of supporting thriving agriculture, natural resources, people, and communities by integrating quality education, innovative research, and impactful engagement. The Dean of COANR will interface with UW and College leadership, faculty, industry leaders, policy makers, the College's Advisory Board, and others who have a vested interest in the College's teaching, research and extension programs, and their impact on Wyoming and the region. In partnership with College faculty, state and national research and educational priorities will be determined and influenced by the Dean's engagement with statewide stakeholder groups.
In serving as the COANR's lead advocate, the Dean will facilitate interactions of common interest among the other colleges and schools on campus to coordinate COANR research and service activities pertaining to agriculture, natural resources, and other related issues.
To view the complete job advertisement and/or apply, please visit the Search Firm's site.
DEPARTMENT CHAIR - ACCOUNTING AND FINANCE
UW's AACSB accredited College of Business is seeking a collaborative and forward-thinking Chair, Department of Accounting and Finance. UW's Accounting and Finance programs were merged into a single department in January 2017. The combined department offers undergraduate and Master's degrees in Accounting and Finance as well as courses in the MBA program. The Accounting and Finance programs both have a long tradition of serving their respective professions, the academic community, and the state of Wyoming. The Department has 13 full-time tenure-track faculty and serves over 400  undergraduate and approximately 30 graduate students; continued growth in both faculty and student enrollment is planned.
The Department's mission statement reads as follows:
The Department's mission is to deliver excellent education to undergraduate students, masters' students, and professionals; produce basic, applied, and pedagogical scholarship providing thought leadership for academic and professional audiences; and provide outreach to promote economic development. The Department conducts its activities with honesty and integrity at all times.
This mission supports the mission of the University, which is:
We honor our heritage as the state's flagship and land-grant university by providing an accessible and affordable higher education of the highest quality; rigorous scholarship; the communication and application of knowledge; economic and community development; and responsible stewardship of our cultural, historical, and natural resources.
The Department occupies a floor in the state-of -the-art LEED certified College of Business building, which was completed in 2010. The building features classroom spaces that accommodate a variety of teaching and learning methods. The building also features a trading room, behavioral and multimedia laboratories, an executive boardroom, conference and seminar rooms and an auditorium. College of Business students benefit from the latest wired and wireless technologies, including high-definition multimedia play back and projection systems in each classroom, a video production and editing facility, video conferencing capabilities, financial data feeds and a stock ticker in the atrium.
To view the complete job advertisement and/or apply, please visit the Search Firm's site.
Prospective Employees
The University of Wyoming is always looking for the best and brightest to contribute to our wonderful community. The links below provide information that may prove useful while considering your employment options here at UW. 
If you are an individual with a disability and require a reasonable accommodation to complete any part of the application process, or are limited in the ability or unable to access or use our online application process and need an alternative method for applying, you may contact 307-766-2377 for assistance.  
New!  UW now offers an ADA Accessible Job Applications Site for prospective employees - to view our current listings, follow the appropriate links below to search all jobs:
Additional Information About Our Listings
Classified Staff: Classified positions are jobs that are assigned to particular titles, job families and paygrades.  Classified staff positions focus primarily on supporting education, research, and the campus infrastructure. If a position entails performing such functions, it may be deemed as Classified.  To apply for any of these open positions, click on the appropriate links below:
Administrative: Administrative postings include: executive level positions such as development officers, directors and non-classified administrative assistants.  To apply for any of these open positions, click on the appropriate links below:
Academic: These listings include faculty, academic professionals, lecturers, post-doctoral research associates and research scientists.  In addition, the University of Wyoming is always looking for qualified Post-Doctoral Research Associates and Part-Time Lecturers.  Interested candidates may inquire and/or submit materials to the head or chair of the appropriate department.
Our Academic hire processes have now gone online, effective October 3rd, 2016.  To find any listings available after this date - please use the appropriate links below:
Student: Student listings are only available for students of the University of Wyoming.  These listings includes hourly, non-benefited positions available around campus.  Click to view our Student Listings.
Work Study: Work Study listings are only available for students of the University of Wyoming that have been awarded work study via Financial Aid.  These listings includes hourly, non-benefited positions available around for those that qualify around campus.  Click to view our Work Study Listings.
Non-Benefited: Non-Benefited listings are available for anyone to apply to.  These listings includes only hourly, non-benefited positions available around campus.  Click to view our Non-Benefited Listings.
To see other possible career opportunities, internships and/or obtain information as a graduating student seeking employment, you can check out the Center for Advising and Career Services page.
Before You Apply
It is important to think about a few things before you begin the application process.  You will want to gather information regarding your employment history, dates, addresses and phone numbers for previous employers and references; anything you may not know off the top of your head. You will have approximately 30 minutes to complete the application before the system will time you out after a period of inactivity. However, the system does allow for you to save your application as a draft and you can log back in at a later time to finish and submit your materials.
We strongly suggest that you do not use the back button on your browser when you are completing your application.  This could result in a loss of data or the system may log you off before you can save what you entered. Please use the links provided in our application to navigate. 
Most positions require a cover letter.  However, you can only upload one document for each application.  Please save your cover letter and resume as one document.
If you are using the Safari web browser or Google Chrome you will want to switch to FireFox or Internet Explorer. Your resume/cover letter is limited to 10 MB and you will want to keep the title of your resume fairly simple and short. When uploading a resume, make sure it is one of the accepted file types. We accept .PDF .DOC .DOCX .RTF and .TXT
The system does require that you have an e-mail address.   If you do not have one please visit one of these sites to obtain a free account, www.gmail.com or www.yahoo.com.
Clear your cookies and temporary Internet files before you begin. You can find that in your Internet options under tools, browsing history. You will get an email once your application is submitted successfully, if you do not get that message, you did not successfully apply.
Applying for a Classified Staff Listing:
Click to view a demo for using the Online Application System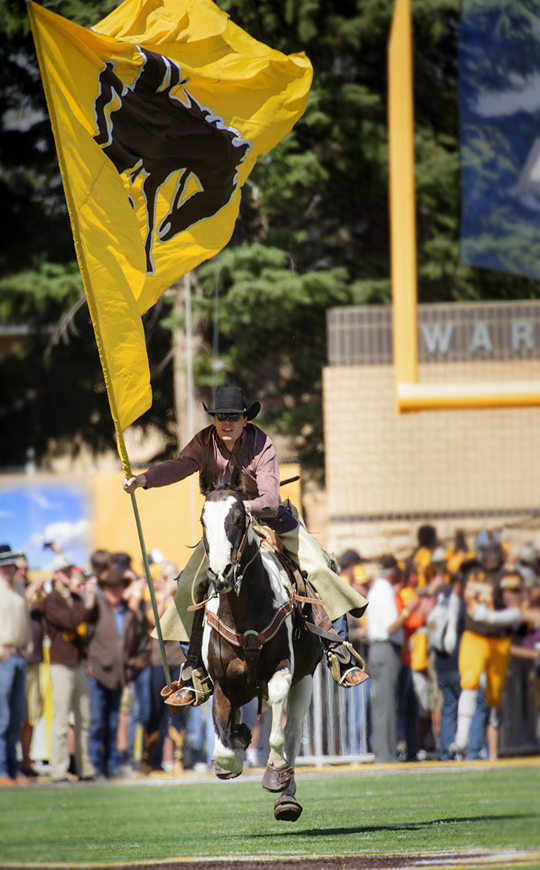 UW Employment Policy
It is the policy of the university not to hire any person convicted of a crime the nature of which is reasonably related to the applicant's fitness for the job. No person convicted of a felony of any nature shall be hired without the approval of the hiring unit's vice president or the Director of Athletics, if appropriate. Further, it is against university policy to hire any person who has been convicted of (1) a felony involving violence or (2) a sex crime against a minor or a sex crime involving violence.
The University of Wyoming is committed to providing a safe and productive learning and living community. To achieve that goal, we conduct background investigations for all final candidates being considered for employment. Background checks may include, but are not limited to, criminal history, national sex offender search, employment and motor vehicle history. Offers of employment are contingent upon the completion of the background check.
The University of Wyoming will only consider degrees from accredited universities/colleges that are recognized by the U.S. Department of Education.
It is your responsibility to ensure your application materials were submitted.  The system will send an email that we successfully received your application. If you are unsure you can double check your profile or call our office and we can check for you.