2014 Nightingale Ceremony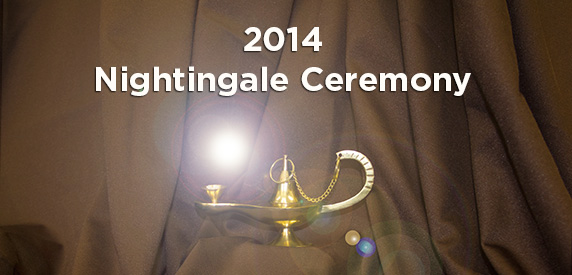 The University of Wyoming Fay W. Whitney School of Nursing held the annual 2014 Nightingale Ceremony on Friday, September 5 in the UW Arts & Sciences Auditorium. The ceremony welcomed seventy new nursing students into the profession of nursing. The students, from the traditional Basic BSN program as well as the accelerated BRAND program, signed a pledge to uphold the standards and ethics of the nursing profession. But prior to the signing of the pledge, speakers stepped forth to explain the pledge and to give examples of the pledge employed in the workplace.
After a welcome from the School of Nursing by Dean Mary Burman, brief welcoming statements were given from the College of Health Sciences by Dean Joseph Steiner, and from the profession of nursing by the namesake of the UW School of Nursing, Fay Whitney.  2011 BRAND alumna Teresa Wright, RN, BSN, MPH, CHES, and the UW Student Nurses' Association President Amber Wright both spoke about the Nightingale Pledge and its application in students' studies and clinicals.
Also on the Nightingale Ceremony's agenda was the enjoyable task of giving credit to the clinical partners that work with the school to bring students state-of-the-art education in nursing. Awards were given to the Basic BSN and BRAND Community Partners of the Year, Premier Bone and Joint of Laramie and Campbell County Memorial Hospital of Gillette, respectively.  Preceptors (nurses who mentor students in a variety of clinical settings) were also honored by both Basic BSN and BRAND programs. Those preceptors are Anne Wallace from North Colorado Medical Center in Greeley and Chase Ommen from Sage West in Lander.
For more, please click into the articles below.