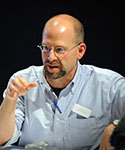 Associate Professor of English, Director WIHR
Hoyt 241, scott.henkel@uwyo.edu
Biography
Scott Henkel joined the faculty of the University of Wyoming in 2015. His research and teaching interests include the literatures of the Americas in the long 19th century; transnational American studies; the literature of labor and slavery; critical theory; democratic political movements; free speech and censorship; and complex systems.
Education
Ph.D., Michigan State University
M.A., Ohio University
B.A., Western Michigan University
Recent and Upcoming Courses
Senior Seminar: A Better World is Possible
Slavery and Resistance in the Americas
Democracy and the Literatures of the Americas
The Literature of Equality
Banned Books and Stories Not Told
Selected Publications/Awards
Extraordinary Merit in Research Award from the College of Arts and Sciences (2017)
Henkel, Scott. After the General Strike: Democracy and Labor Resistance in the Long 19th Century. Monograph in progress.
Henkel, Scott. Direct Democracy: Collective Power, the Swarm, and the Literatures of the Americas. Jackson: University Press of Mississippi, 2017. Published in the Caribbean Studies Series. Winner of the C. L. R. James Award for Best Published Book for Academic or General Audiences from the Working Class Studies Association (2018)
Henkel, Scott and Vanessa Fonseca. "Fearless Speech and the Discourse of Civility in Salt of the Earth." Chiricú Journal: Latino/a Literatures, Arts, and Cultures. 1.1 (Fall 2016): 19-38.
Henkel, Scott. "The Advantages of Leaderlessness" What Comes After Occupy?: The Regional Politics of Resistance. Ed. Todd Comer. Newcastle: Cambridge Scholars Press, 2015. 22-41.
Henkel was selected by the Wyoming Institute for Humanities Research to be the university's junior faculty nominee to the National Endowment for the Humanities Summer Stipend Fellowship competition. His project is titled "Democracy's Colleges: The Early History of the Public Humanities."
To learn more about Scott's publications, click here.