CSI: UW Episode 4
The Scene of the Mobile Device Crime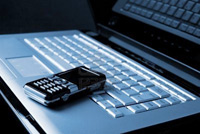 SCENARIO 1 : You're at the airport, and you put your laptop and smart phone through the scanner. Someone grabs them and runs before you pass through. Your stolen laptop and phone contain your personal banking information and account access, and your devices weren't locked.
SCENARIO 2 : You're in the library with your mobile device and you get up to grab a book off the shelf. When you return your device is gone. It contains enough information for someone to steal your identity.
These are just 2 possible scenarios in which thieves or unauthorized users could get access to sensitive and/or personal information on your mobile device. How could access to your information be prevented? Here are some tips for keeping your machine more secure and preventing unauthorized access.
Your Mobile Device
If your mobile device is stolen and/or accessed by an unauthorized user, it can be a disaster. Here are some tips to protect your laptop and your data.
Laptop Security software
In addition to the steps listed above, users can also install an open source product named Prey. Prey allows you to track and secure your mobile device if it has been lost or stolen.
With Prey, you can
Track a device with using the device's GPS or Wi-Fi triangulation
Force a lockdown of the device to prevent access
Capture screen shots of whatever is currently active on the device
Capture images using the web camera of the device
*Information Technology is unable to provide support for, or recovery from, encrypted file systems at this time. IT is working to implement system utilities that will provide a backup for lost keys for supported Windows Operating Systems.
Short Subject: But I HAVE Antivirus Software!
---
Episodes:
Other Information: