Academic Programs
Discover Your Career in Energy Management
Are you looking to make a difference in your career? Explore a future in energy careers. You can make a difference in a rewarding, well-paying occupation in energy management that benefits millions of people every day!
Energy management issues are complex and there is a growing demand for professionals with a multidisciplinary background. These professionals are able to understand and draw on the expertise of engineers and other energy scientists. They are also able to appreciate the business, legal, social and public policy implications of a given project.
The Energy Resource Management and Development program is designed to meet the needs of the energy industry. Through a combination of rigorous academic training, hands-on scenarios and internships, students prepare for essential roles in industries such as oil and natural gas, renewable energy, and mining. 
Students take a core curriculum focusing in business, natural resources, law and policy, project management, risk analysis and mathematics. Our program offers two concentrations for specialization, Professional Land Management or Energy Land and Water Management.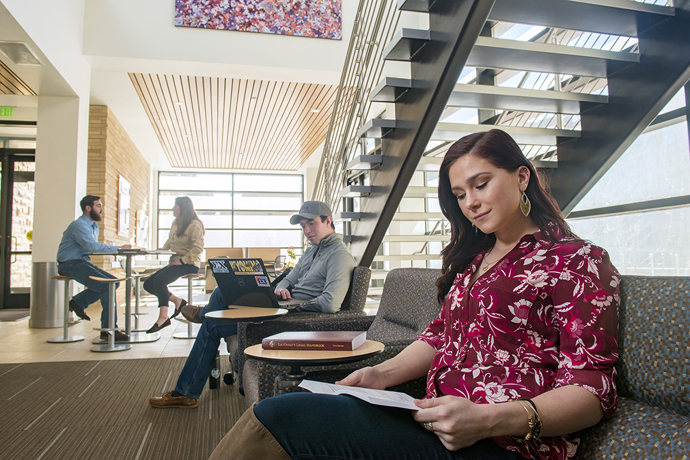 Professional Land Management Concentration
Energy development requires people who understand the business and legal challenges facing a project. This is where a land representative is important. Landmen have an essential role, acting as the face of energy projects, they must work with the public to resolve challenges that landowners and communities may have. This work leads to a mutually beneficial solution for landowners and energy companies. Learn more about the Professional Land Management concentration.
Energy Land and Water Management Concentration
Energy production is dependent upon the sustained stewardship of air, land and water resources. Environmental scientists, environmental consultants, and reclamation planners use their knowledge of our natural resources to protect the environment during energy development. 
Most of the work that environmental scientists do involves collecting and sampling data from air, soil, water, and other materials. The data collected is used for environmental impact studies and surveys. These samples help to identify and assess threats to the environment, develop plans to prevent or fix problems such as pollution, and provide guidance about possible hazards and health risks. This ensures quality regulation and management of our natural resources. Learn more about the Energy Land and Water concentration.
How to Learn More