UW RN-BSN Completion Nursing Program
Ranked among Nation's Best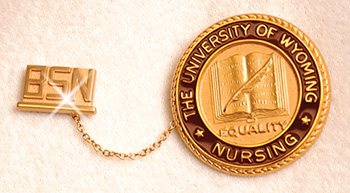 The University of Wyoming's online RN/BSN Completion Program is for the registered nurse with an associate degree or diploma in nursing or the Wyoming associate degree nursing student who wishes to further their education to the baccalaureate level in nursing.
----------
The University of Wyoming ran this press release July 22, 2015:
The University of Wyoming's Fay W. Whitney School of Nursing program was rated 23rd among the top 50 affordable online Bachelor of Science in Nursing degree programs nationwide, according to Value Colleges rankings.
The survey said the convenience of the program, along with affordability of in-state and out-of-state tuition fees, "make an online BSN from the University of Wyoming a solid value."
UW offers an online RN/BSN completion program available to any RN.
Value Colleges considered only accredited nursing schools, and UW's program is accredited by the [Commission on Collegiate Nursing Education] and approved by the Wyoming State Board of Nursing. "This choice ensures that all our entries display a common level of quality, integrity, rigor and value that translates into a marketable degree," according to Value Colleges.
Rankings were determined using three metrics: Payscale's 2015 College ROI Report by Healthcare Career criteria; U.S. News & World Report's national rankings; and credit per hour tuition rate (for the actual online BSN program) as reported by each individual college.
For registration requirements and other details about the UW online BSN program, check out the program's web page at www.uwyo.edu/nursing/rn-bsn-completion.
----------