1999 Distinguished Alumna
Susan Elaine Ward
MHEd, PhD, CHES
(BSN '77)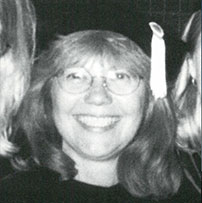 Background
Susan Ward grew up in Wyoming, earning her BSN degree from the University of Wyoming in 1977. She earned the MHEd in 1986 from Idaho State University, and the PhD in 1990 from the University of Virginia. She is a Certified Health Education Specialist.
In 1999
Ward is an associate professor and Chair of the Department of Health Studies at Texas Woman's University (TWU), Denton, Texas. Susan has been at TWU since she completed her doctoral program in 1990. Prior to that she was a teaching assistant at the University of Virginia; worked in nursing and teaching positions for Delta Airlines at Dallas/Fort Worth; and was a health educator and school nurse in Jackson, Wyoming from 1979-1987. She started her career as a staff nurse in 1978 at St. John's Hospital in Jackson.
Awards and memberships
Last year Ward was the Texas Association for Health Physical Education, Recreation, and Dance (TAHPERD) College Health Professional of the Year and received that honor in December 1998. She is an active member of AAPHERD, AAHE, ASHE and is President Elect at the national level of Eta Sigma Gamma, the National Health Education Honorary. She is a member of Sigma Theta Tau, International and Phi Kappa Phi.
Author, Researcher

She is co-author of three books and has published articles in refereed journals on a variety of topics: "Understanding Stress: An experiential activity;" "Sexuality Education: Considering the Temporal Dimension;" "Perspectives of Volunteers in Health Care;" and "Coping Process Theory" to name a few. Her published research reports are also written on a variety of topics such as "Quantifying Sensitivity of Known Cancerous Lesions;" "An Occupational Health Facilities Study" done for Delta Airlines; and "A Report on Adolescent Runaways in Denton County, Texas."

Her research in progress is in detection sensitivity for malignant breast lesions. The product from this project will be part of a "second reader" computerized system which will greatly enhance the radiologists' ability to accurately diagnose breast cancers with fewer biopsies. Clinical trials will begin in 2000.

Dr. Ward has two other research projects in progress. One is a National Evaluation Project involving school districts from Pennsylvania, Louisiana, and California. The other is Evaluation of the Wellness Initiative and Discover Skills for Life Curricula in the Dallas Public Schools.
Glowing praise from administrators, nurses, colleagues, and students
The Dean of the College of Health Sciences at TWU stated, "Dr. Ward excels in teaching, scholarship, and professional/community service. She is the consummate teacher whose style is dynamic, open, and inviting. She is equally at home in the classroom and utilizing interactive video conference technology. Students consistently rate her as among the top teachers they have had at the University. . . She [also] serves the professional societies at local, state and national levels as well as in the community... She has been instrumental in bringing diverse departments together to develop multidisciplinary courses and special faculty projects. The esteem in which the Health Studies faculty hold her was demonstrated recently when she was unanimously selected as the first elected chair of the department."

A Texas school nurse wrote, "Her commitment to the health of the school children of Texas is unwavering as she promotes this effort both in her professional position with TWU as well as her involvement in the Texas School Health Association and the American School Health Association. She is an excellent advocate for promoting health education and awareness for the young people and children of our state."

A colleague at TWU wrote, "On a national level, she is not only a member and frequent presenter at national conferences, but also serves as a reviewer for the National Council for Accreditation of Teacher Education and as Associate Director for the Health Division for the American School Health Association. Those who work with her will quickly state that her involvement is a powerful, positive statement of Health Education excellence."

A former student wrote, "I feel that one of the things that most clearly distinguished Susan from others is her ability to see things in a global perspective...and to seamlessly blend it with the local view. In a society A former student wrote, "I feel that one of the things that most clearly distinguished Susan from others is her ability to see things in a global perspective...and to seamlessly blend it with the local view. In a society that often views things in terms of competition rather than collaboration, it is easy to believe our professions to be separate and distinct entities. However, while much of our society has talked about the need to adopt and encourage a multidisciplinary perspective in the health professions, Susan has lived it - and, in so doing, has served as a model, for both nursing and health education, of the synergistic result of the blending of the best of the two professions. Through her desire and ability to successfully sustain both roles, she has opened the door to potentially new ways of seeing and doing in our professions - she has given us at least one very real and compelling reason for mutual respect and cooperation. She has ignored what some would call the conventional wisdom and the need to choose between professions, and has chosen to be a model of excellence in both."
October 1999 update:
Susan Ward and her husband Virgil live in Denton, Texas. Susan will be making a presentation on Friday October 8 on her mammography project. She will be presented her Distinguished Alumna award at a dinner in her honor on Friday evening October 8. Again, our congratulations and very best wishes for continued success to our 14th Distinguished Alumna.
----------
Page updated 2/22/2017