2007 Distinguished Alumna
Janice Stephens
RN, PhD
(MS, '88)
----------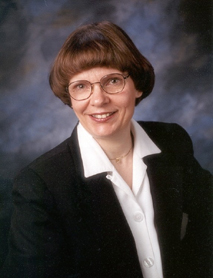 Health Educator
Over the years, Dr. Janice Stephens has distinguished herself as a 1988 graduate of our master's program. Because of her interest in nursing education, she continued her own education to earn a doctoral degree at the University of Wyoming in Adult Learning and Technology in 1995. She has given outstanding service in her employment as a health educator, nursing faculty member in ADN and BSN Programs, with guest lecturing and research with MSN students. She served as Dean and Director of two BSN programs.
During the years she worked as the Dean at Northwestern Oklahoma State University School of Nursing, she developed a plan for curriculum revision, retention of students, and increasing NCLEX-RN pass rates. She has a very positive attitude, an energetic commitment to nursing education, and highly developed administrative skills. Dr. Stephens has been effective in her past leadership roles and grant writing efforts to improve the working conditions for her faculty as well as increase resources for faculty and students.
Wholistic Health Education
Stephens has distinguished herself as CEO for Wholistic Health Education Services in South Dakota. She is active consulting with other professionals nationally, and community members locally on health promotion projects. She has contributed to professional literature over the years in education and administration. Most currently, she has authored the "Wholistic Health: Self-Management Program: Core Content" (2006). She has sustained her efforts to improve both nursing education and nursing practice in health promotion and disease prevention.
Whitney Endowed Chairperson
Stephens has been appointed the Whitney Endowed Chairperson, a newly funded faculty position located at Sheridan College, and adjunct faculty at the Fay W. Whitney School of Nursing. She is providing on-site mentoring, advising, and instruction to Sheridan-area nurses and nursing students who desire their Bachelor of Science in Nursing degree. 
Dr. Stephens has demonstrated a commitment to "life-long learning" and personal wellness while building a distinguished record of publications and scholarship. Her future plans include returning to an academic role in the education of future nursing students.
----------
Page updated 2/22/2017