2016 Distinguished Alumna
Leissa A. Roberts
DNP, FACNM
(BSN '81)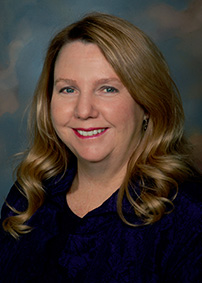 Leissa A. Roberts, DNP, FACNM, has been named the 2016 Distinguished Alumna for the University of Wyoming Fay W. Whitney School of Nursing. She is currently Associate Dean of Faculty Practice for the University of Utah College of Nursing. Her nominators recommended her for the award based on contributions to the nursing profession, including excellence in clinical practice, education, administration and research; outstanding contributions to the community; and leadership in professional organizations. The Fay W. Whitney School of Nursing presented the 2016 Distinguished Alumni Award to Roberts on October 7, 2016 at the University of Wyoming during Homecoming week.
Background
Upon her graduation from the University of Wyoming in 1981, the Wyoming Nurses Association foresaw a bright future for Leissa Roberts, naming her "Most Likely to Succeed." Their prediction shows fulfillment in Roberts' 28-page academic vita, spanning an impressive 31-year career.
Roberts obtained her master's degree in nursing and certification as a nurse-midwife in 1993. One nominator notes, "Leissa's leadership ability was quickly recognized through appointment in 1994 as Director of BirthCare HealthCare, the faculty practice for the University of Utah College of Nursing graduate nurse-midwifery and women's health nurse practitioner program."
From that point, Roberts assumed multiple leadership positions for the university, completing her Doctor of Nursing Practice degree in the midst of her work (2009). As Associate Dean of Faculty Practice for the University of Utah College of Nursing, Roberts has "significantly expanded faculty practice," notes a nominator, "now managing more than 100 providers, nurses and staff," while continuously providing clinical care to women in addition to her other responsibilities. Roberts also developed the Sutter Health Graduate Assistantships program, making it possible for students to obtain a graduate assistantship while serving patients at a nurse triage call center.
Specific highlights
Below are a representation of the career accomplishment highlights submitted by Roberts' nominators, portraying Roberts to be an exemplary practitioner and leader in her field:
In June 2015 Roberts was inducted as a Fellow in the American College of Nurse-Midwives, a prestigious honor given to an elite group of midwives who have demonstrated leadership, clinical excellence, outstanding scholarship, and professional achievement both within and outside the midwifery profession.

Roberts was the Principal Investigator for three research studies contributing to the development of Coping with Labor Algorithm, "...which has had global impact as it is now utilized throughout the US and internationally," notes her nominators. Her 2012 article on the subject was the "Best Article of 2010" and "Most downloaded article of 2011" in the Journal of Midwifery and Women's Health.

Roberts has been awarded over 11 million dollars in grant funding and contracts to support the College's faculty practices that include partnership with the State of Utah Juvenile Justice Services to provide health care to incarcerated adolescents, homeless health care, APRN psychiatry services to vulnerable populations, and to support an innovative group prenatal care program at a BirthCare HealthCare clinical site that provides health care to an underserved population of women.
Local, state and national participation in professional organizations
Roberts' resume documents a heavy participation in professional organizations at the local, state, and national levels. Picking a few to highlight: Roberts currently serves nationally as a reviewer on the American Midwifery Certification Board Discipline Review Committee. She is also an Ad Hoc Member with the American College of Nurse-Midwives and Childbirth Connection task force to develop a tool kit for obstetric providers to promote physiologic birth. She was a member of the AARP Public Policy Institute's "Learning Collaborative on Removing Barriers to APRN Practice and Care."
Recognition
Roberts has been recognized by nurses, faculty, national organizations, and even Utah businesses. The latter took the form of awards in two separate years as "Health Care Hero" by Utah Business Magazine, recognizing the international success and effect of her research (2011), and her leadership in development of a clinic for underserved women and their families (2005).
----------
More on Roberts:

Check out Robert's recent video-taping of verbal history [2016]
----------
Updated: 2/22/2017