2009 Distinguished Alumnus
Samuel Millar
RN, BSN
(BSN '02)
----------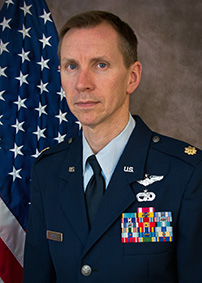 The Distinguished Alumni award for 2009 from the Fay W. Whitney School of Nursing was awarded to Capt. [Major as of 2014] Samuel Millar of the United States Air Force during the Nursing Convocation ceremonies held Saturday, May 9th, 2009 in the Fine Arts Center Concert Hall on the University of Wyoming campus. Capt. Millar graduated from the Bachelor of Science in Nursing program in 2002. He received his Master's of Science in Health Sciences from Touro University International, Los Alamitos, Summa Cum Laude in 2005. He is presently Chief of the 18th Operations Group Aeromedical Evacuation Squadron.
Result of UWYO Education
Millar noted in a 2005 write-up for our school that as a result of the education he received from the University of Wyoming, he had the greatest amount of confidence in taking care of patients, whether White House personnel or combat casualties; he used his learned skills in everything from pediatrics to geriatrics; he served as the ACLS RN for critical care ambulance runs; he was a preceptor for a number of nurses and reservists as well as for medical technicians; he also taught a few nursing related classes and all of that within 3 years of his graduation from the our bachelor's program.
Distinguished in Military Nursing
Millar's confidence, perseverance, determination and ability to keep a cool head in tense situations as a flight nurse has been distinguishing him in military nursing. In 2008 he was awarded the Air Force Achievement Medal for responding to an inflight emergency on Air Canada enroute from Tokyo to Toronto, where his quick action, calm demeanor, and direction of a hastily put-together team of two flight attendants and a retired general practitioner brought emergency aid and stabilization to a Canadian water polo Olympian on his return trip from competing in the Beijing Olympic Games. He also recently was awarded the Aerial Achievement Medal for providing inflight care to 15+ urgent/priority patients.
In the recent "Operation Pacific Angel" in Bangkok, Thailand, he created and implemented joint US Air Force/Royal Thai Air Force "Aeromedical Evacuation Subject Matter Expert Exchange" curriculum to further understanding of aeromedical evacuation operations/procedures between Thailand and the United States as they hope to prepare for collaboration over such catastrophic events as tsunamis and cyclones in humanitarian assistance missions. In December 2008 and January 2009 "Operation Deep Freeze" at McMurdo Station, Antarctica, Millar provided oversight of aeromedical evacuation operations/procedures for the Antarctic continent during which he gave inflight care to urgent aeromedical evacuation patients from Antarctica to Christchurch, New Zealand.
Our School is proud to recognize a dedicated serviceman by honoring Capt. Samuel Millar with the 2009 Distinguished Alumni award.
----------
Page updated 2/22/2017