2020 Distinguished Alumna
Susan Boughn
MSN, EdD
(UW Undergraduate 3-year diploma, 1968)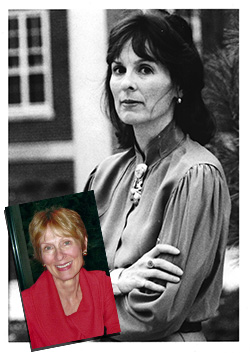 ----------
PICTURED:
The black and white picture of Boughn was taken at the peak of her career about the time she was selected by the Council for Advancement and Support of Education (CASE) as the 1993 New Jersey Professor of the Year.
----------
The Fay W. Whitney School of Nursing at the University of Wyoming announces their 2020 Distinguished Alumna, Susan Boughn, MSN, EdD. Boughn has been selected for this year's award for her significant contributions to the nursing profession by promoting excellence in nursing education.
One nominator notes the following: "Dr. Susan Boughn has received many awards and published fifteen plus articles in refereed journals, co-authored a book and contributed chapters in textbooks. Additionally, she has presented at many national and regional conferences, both as an invited expert speaker and with competitive refereed presentations. She became a recognized expert on autonomy (developed a nationally used tool) and women's issues."
More importantly Dr. Boughn has touched the lives of many generations of nurses and inspired nursing students with her passion, expertise and dedication to professional nursing.
One of Boughn's nominators gives a glimpse into her effectiveness: "I had the distinct honor of attending one of [Boughn's] lectures at The College of New Jersey. After the class was over, many of the students came up to me to tell me how wonderful Susan was to them, and that there was a waiting list for her lectures—certainly a true tribute to her as both a lecturer as well as an educator."
EDUCATION
Susan Boughn's nursing education began at the University of Wyoming in 1965, with her major in Nursing. She took the 3-year diploma option that was offered by UW at that time, then went on to get her BSN at San Jose State College in California in 1973. She continued there to work for her Masters of Science in Nursing, graduating in 1974. Susan went on to pursue her Doctorate of Education at Rutgers State University in 1986.
WORK EXPERIENCE
While completing her education, Susan worked in many jobs from emergency nursing to public health nursing and ended with Professor, School of Nursing, The College of New Jersey, from 1993 until her retirement in 2014.
AWARDS
Top awards throughout her career include College Faculty Range Program Award for "sustained meritorious work performance and achievement in teaching, scholarship and service"; New Jersey Professor of the Year Award (Council for the Advancement and Support of Education, Washington, D.C.); Delta Nu Research Awards (Sigma Theta Tau International Honor Society of Nursing ) for three years; Chi Upsilon Sigma National Latin Sorority, Inc., where she was recognized for her support of minority women students. She has been heavily published. She also co-authored a book on "Aids – What Every Student Needs to Know."
HIGHLIGHTS in PUBLISHING/LECTURING
Dr. Boughn's research on women & violence was published in the highly competitive international Journal of Nursing Scholarship. A related project on trichotillomania was published in several journals including an invited contribution to the Psychiatric Times (trade journal for professional psychiatrists). Boughn stated that one of the most exhilarating experiences in her career was being invited in 1987 by the Chinese Nursing Association to lecture in the People's Republic of China.  
AREAS OF EXPERTISE
Dr. Boughn's areas of expertise: public health, specializing in at risk populations; maternal & gynecologic health; and political-economic-social issues. Boughn's CV is linked below:
----------
Story Placed: 2020-08-10