2002 Distinguished Alumna
Terry Dimon
(BSN '77, MS '96)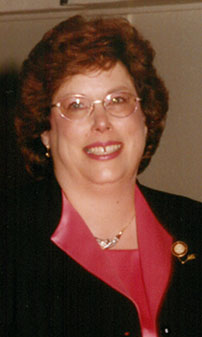 Finding her niche in ER nursing
Terry Dimon, BSN 1977 and MS 1996, is the School of Nursing Distinguished Alumna for 2002. Terry graduated from East High School in Cheyenne and entered the University of Wyoming in 1973. She knew that she wanted to be a nurse and that she wanted the Bachelor of Science Degree in Nursing. Her new husband at that time told Terry he would support her getting an education, and commuted to Cheyenne from Laramie for a year while she was in school. Terry has worked at United Medical Center since 1978. After trying nearly every area in nursing, Terry found her niche in the emergency room while relieving another nurse on nights. She became manager of the ER in 1985 and is currently Trauma Coordinator. Terry's nominator stated, "Terry's strongest attribute is her belief that one's work environment begets the quality of the results produced by her cohorts' labors. She is well known for her ability to achieve the desired results in her unit by her easy, but persistent demeanor. She recognizes that a well-educated staff returns worthwhile dividends, and so she actively promotes educational opportunities ranging from return to academia for an advanced degree to assuring ample opportunities for continuing education units through in-house offers or travel to pertinent conferences." She also recognizes the need for her own currency, and participates regularly in nursing certification programs. This last year she was invited to be an Instructor Trainer for an international Trauma Nursing Core Course in Portugal. On her flight home, she had a real life emergency when the passenger in the seat in front of her had a cardiac arrest. Due to her quick thinking by opening the airway, using the AED, starting an IV, and working with the three doctors on board, the man survived.
A true visionary
Terry was visionary and dedicated to the founding of United Medical Center as the first Regional Trauma Center in Wyoming. As Trauma Coordinator she meets monthly with the ambulance company to help improve the quality of care provided. She plays an active role in Safe Kids, Wyoming Trauma Coalition, and the Injury Prevention Team. Countless hours have been spent in fitting car seats for kids. She was the primary author of UMC's bioterrorism plan.
Terry is recognized as an incredibly insightful clinical nurse. She is a proven leader, a relentless worker, and committed to making UMC the first American College of Surgeons Level II trauma center in the state. Because of Terry's dedication, the people of Wyoming will have a high quality of trauma care. A letter of support from a physician with whom Terry works wrote, "The most impressive of Terry's many personal attributes has to be her unflinching integrity. She always will side on the side of doing 'the right thing,' adhering to higher principles, and fighting the urge to take the easy road. Terry exemplifies the very best as a nurse, as a nurse administrator, a teacher, a citizen, and a human being. She is a shining role model for any young nurse."
Continuing education
It is never easy to engage in furthering one's education, but Terry took on the task of earning a master's degree in nursing here at the University. Again her husband supported her desire to further her education, and in addition their two children were proud of their mother. Her thesis topic was "Comparison of Median Door-to-Drug Time in a Rural Emergency Department to the National Standard."
In addition to Terry's professional accomplishments, she has also managed to raise two children. Her son is now at the university majoring in pharmacy, and her daughter is a junior in high school with the aspirations to be a surgeon. Terry assists her husband in a new business by being the "cable rat" (a construction term for the grunt) while her husband provides the brains, to quote Terry.
Congratulations to Terry, a most deserving Distinguished Alumna.
----------
Page updated: 2/22/2017