Barnyards & Backyards: Rural Living in Wyoming
Barnyards & Backyards
Current Issue
This informative, concise, and timely quarterly magazine is made for YOU the rural landowner, or backyard enthusiast.
Pulling, mowing, burning can help stop week spread after going to seed
Planning ahead for animal care can let you have time away
Rain garden design filters, directs runoff from Gillette three-acre parking lot
Aquatic nuisances can cause big problems if not caught early
Manure boosts Wyoming landscapes no matter the source
Watering methods, common sense help keep water where most needed
Take advantage of unlikely moisture source to help establish pollinator plots
Ask Sam: Weed-free hay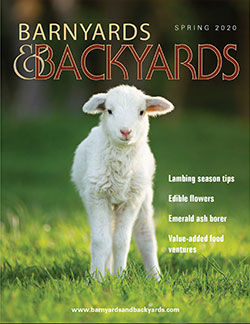 Time to spring ahead to growing season
Considering a value-added food venture? There's a three-step approach
Landowners should be aware 2020 may be a high grasshopper year
So you want to be a shepherd - now you get to lamb
Watch your ash because the emerald ash borer could sneak into Wyoming
Best of both worlds! Beauty for the eye, flavor for the table
Prevention is key to keeping mosquito-borne diseases at bay
Getting the most from your wheel line or hand line irrigation system
Understanding temperature inversions, mitigating pesticide drift - and maintaining friendly neighbors
Feel there is too much to do and too little time? Try some time management techniques
Subscribe and Past Issues
If your question is used in the "Ask Sam" feature, you will receive 1 year subscription free!