Meet Terri Wolff
Get to Know Your Faculty Series
Terri Wolff, MSN, RN
Coordinator for the RN/BSN Completion Program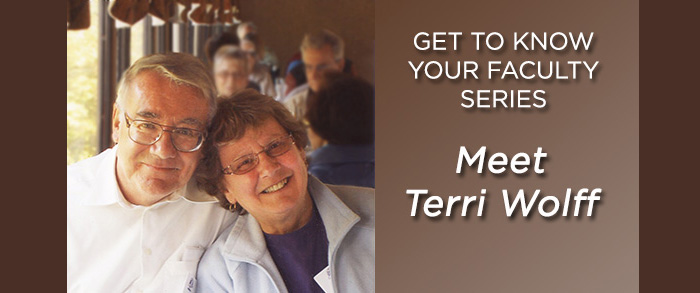 (above) Terri and Jack Wolff on a New England fall foliage tour.
What courses do you normally teach?
Over my years of teaching at UW, I have primarily taught public health nursing and family nursing, both didactic and clinical.

At the current time, I teach the Capstone Project.

I also currently serve as the Coordinator for the RN/BSN Completion Program.
What students (e.g., in which program/s) will most likely have you as a professor during their program tenure?
During my first 17 years teaching, I was assigned to the Basic [traditional, on campus] undergraduate program. The past four years, I have been in the online RN/BSN Completion Program.
What brought you to Wyoming, UWYO?
I grew up in Sidney, Nebraska and obtained my BSN at Creighton University in Omaha. After graduation, I was employed at the Veteran's Administration (VA) in Omaha for three years, but had a desire to return to the high plains. I transferred to the VA in Cheyenne to be closer to my parents. I eventually went back to school and earned my MSN at the University of New Mexico (UNM).

After graduation, I returned to Cheyenne to marry the love of my life. At that time, nurses with master's degrees in public health nursing were very scarce in Wyoming. I was working as a staff nurse at the Cheyenne Laramie County Health Department and was approached by Betsy Wiest [faculty at UW School of Nursing] to teach a group of RN/BSN Completion students part-time in a face-to-face format (online was a few years away). The following fall I was recruited by Dean Elizabeth Nichols to teach full-time at UW.
How long have you been with UW SoN?
At noted above, I began my association with the SON in 1985. In 2004, I decided I needed a change and took early retirement. However, it is tough to stay away, and I returned part-time in spring 2009 and taught in both the online RN/BSN Completion Program and the Basic Program. I accepted full-time employment in fall 2011.
Where were you before you came here and what were you doing previous to this position at UW?
After graduating from the graduate nursing program at UNM, I worked as a Public Health Planning Consultant at the State Health Planning and Development Agency at the Wyoming Department of Health for four years. When the agency was defunded, I became employed as a public health staff nurse at Cheyenne Laramie County Health Department.
What is your passion area?  
In my professional life, working with new moms and their infants is my passion. In my personal life, my family is my passion. I love spending time with them and preparing gourmet meals. Travel is my second passion. I am happiest when I have an airline e-ticket in my pocket. I have been to China, Scotland, and Germany as well as 40 of the 50 US states and plan to do a cruise down the Rhine and Danube Rivers in 2016. I also enjoy reading, gardening, and writing home décor articles.
Many faculty have "side interests" that help define who they are. Can you share?  
Cooking is my side interest. I love trying new recipes and new cooking techniques.
What do you like best about teaching?
When I was teaching clinical, I loved seeing that 'Ah Ha' moment when a student realizes that public health is actually an important part of nursing. Teaching the Capstone Project, it is exciting when the students discover how policy impacts our nursing profession.