CHS Outstanding Researcher
Diane Boyle Receives Award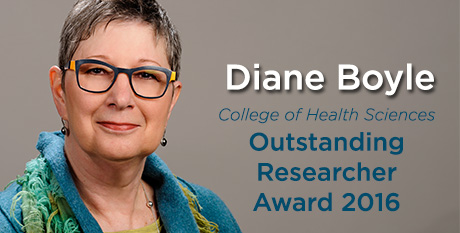 The College of Health Sciences (CHS) awarded the Outstanding Researcher Award for 2016 to Diane Boyle, PhD, RN, FAAN, Wyoming Excellence Chair in Nursing and UW Nursing professor.
The following text, read in presentation of the award to Boyle at the Awards Ceremony recently, delineates Boyle's qualifications for deserving the award:
Dr. Boyle came to the University of Wyoming in June 2013 with an extensive record of grant funding, peer-reviewed publications, and national/international presentations. She continued her own well-developed program of research focused on nursing workforce, care environments, and quality indicators. In 2014 shortly after arriving at UW, she published seven peer-reviewed publications and today has an additional six more to add to her list of accomplishments. Since coming to UW, Boyle has received two grants totaling over $110,000 and has presented at numerous national conferences.  
Dr. Boyle has gone above and beyond publishing her own research by promoting a culture of research scholarship at the Fay W. Whitney School of Nursing (FWWSON) amongst both faculty and Doctor of Nursing Practice (DNP) students:
She has worked with all of the faculty (not just tenure-track and tenured faculty) to facilitate research and scholarship in all of the school's academic endeavors--including teaching, service, professional development and advising.

Boyle was immensely helpful to Dr. Rebecca Carron, who subsequently received funding through INBRE.

Boyle started a writing group, which has provided much needed support and mentorship for new academic writers and has been very successful in helping faculty move their peer-reviewed manuscripts toward publication.

In addition, Dr Boyle both started and has been leading the "5 slides in 5 minutes" faculty group which has helped faculty clarify their research trajectories so that all of their work can be purposeful and clear to outside reviewers. 

In the two-semester DNP capstone course co-taught with Dr. Ann Marie Hart, all of the students now present their findings at the CHS Research Day and write their project in the format for a peer-reviewed scholarly journal. 

Boyle has worked with Dr. Mary Burman on developing a collaborative relationship with the University of Colorado to provide more research support and potential research collaborators.

Boyle and Burman are also working together to develop a competitive process whereby the DNP students are invited to write and submit research abstracts for a blinded, juried review for an opportunity to present their projects at the Western Institute of Nursing (WIN) Conference.  
As one faculty member in the FWWSON stated: "Quite simply, Dr. Boyle's efforts to promote research and scholarship amongst faculty and students have been unparalleled in the SON. Those efforts reflect her research expertise, her passion for and commitment to nursing research and scholarship, and her desire to pass on her passion and expertise to the next generation of nursing scholars. I count Dr Boyle's coming to the SON as one of the best gifts the SON has ever received."
Congratulations, Diane Boyle!
----------
Updated: 5/17/2016