Burman named "Trailblazer"
...by Wyoming Women's Foundation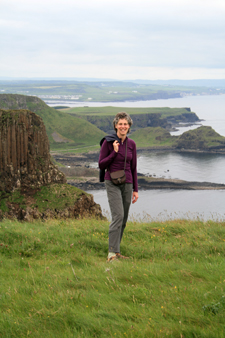 Above: Mary Burman on a 2012 trip to Ireland
The Wyoming Women's Foundation (WYWF) asked Wyoming residents to tell who the women are who have been inspirational, who lead the way professionally or personally for women to follow. UW School of Nursing Dean Mary Burman is among those women noted as Wyoming "Trailblazers". Article below printed by WYWF permission:
Trailblazer: Mary Burman
One gets the feeling that a conversation with Mary Burman will rarely be about Mary Burman, which may shed light on the type of person she is. The Dean of the Fay W. Whitney School of Nursing at the University of Wyoming, Mary has received numerous accolades; one being her acceptance into the Robert Wood Johnson Executive Nurse Fellows Program, a cohort in 2007 of only 20 individuals from around the nation. She has also played an integral role in many of the programs that are moving the needle for nursing in Wyoming. But that is not what she will tell you about. Instead, you will hear about the people she is inspired by and the programs that excite her and you'll appreciate that she is out there working to make a difference.
Minus a ten year hiatus to "get out and see the world" while simultaneously obtaining her degrees, Mary has called Laramie home all her life. She says she did not know that nursing would be her calling but took a Health Professions course her senior year of high school and "loved it." Her ten year stint away from home allowed Burman the opportunity to obtain her BS in Nursing from the University of Minnesota in 1983, her MS in Community Health Nursing from Michigan in 1986, and her PhD from Michigan in 1990. She went on to receive her Post-Master's Certificate as a Family Nurse Practitioner from Wyoming in 1996.
Mary is a clear leader in the field but when asked to describe the qualities of a strong leader, she immediately thinks of other people who she respects and admires. "It's interesting," she says, "because you can't define a leader by the position they are in. They may be a volunteer or a board member and may not be in a formal administrative position." Such an example is her mother who she says is "an inspiration." A retired teacher, her mom is a woman who "enters a room and immediately engages with others. She can get a group organized and does it all with such great energy. And anyone who knows her would call her a leader."
She'll also tell you that a leader "has got to be passionate and have a vision," something she sees in her colleague, Veronica Taylor. Taylor was tenacious in her efforts to make the Wyoming Nurse Leadership Institute (WNLI) a reality. The program provides nurses training to develop or enhance their leadership skills, something that is especially crucial as they move into management positions or work to implement new programming.  Mary worked right along with Taylor to ensure WNLI's success. 
One of Mary's roles in helping to create WNLI is perhaps her greatest strength and a necessity of any great leader; the ability to effectively communicate. She has a skill for rallying the troops in order to accomplish big things. Her knack for bringing the right people to the table, hearing multiple points of view, and getting things done cannot be overstated. "Relationships are important," she says, "I spend more of my time focused on communication- making sure I'm talking with the right person, bringing the right people to the table and even mending bridges if necessary." It's a huge part of what allows so much of the projects she is involved in to get done.
The other part? The doing. While communication is important, Burman will be the first to tell you that "you have to show up." Again she reflects on a person she admires, Lillian Wald, a nurse who, at the turn of the century, realized the lack of quality healthcare among poor immigrants. Wald took it upon herself to move into the poorest neighborhoods to teach and provide healthcare. "She dedicated her life to making her community a better place," says Mary. "She hung in there and made changes and that is what you've got to do. You have to say, 'Yep, I'm here for the duration' and work through the challenges to solve a problem."
It is easy to see that Mary Burman has 'shown up'.