Meet Shannon Schneider
New Faculty Spotlight
Welcome to Shannon Schneider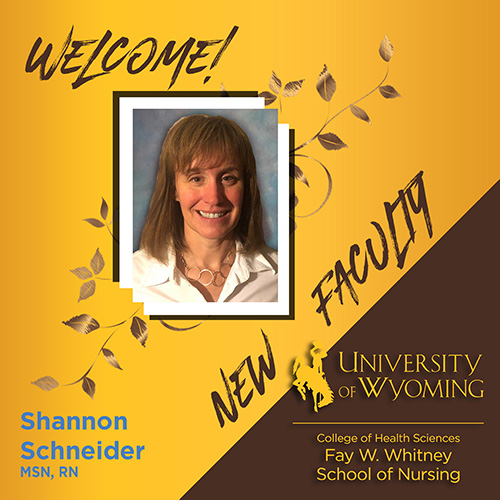 Shannon Schneider, MSN, RN
Assistant Lecturer
Shannon Schneider comes as a fresh new face on our University of Wyoming Fay W. Whitney School of Nursing faculty this fall 2021. She shares her background:
I am not a traditional nurse. What drew me to nursing was lived experiences and having to figure out what the best path would be for me. It was not a direct path, but a path of twists and turns that finally lead me to nursing. I can say now, five years later, I really enjoy being a nurse! I graduated with my BSN from Blessing-Rieman College of Nursing and Health Sciences (BRCN), Quincy, IL in 2016. In 2020, I received my MSN-Education from BRCN. I have worked in the hospital, public health, and community health settings. I enjoy the teaching aspects of nursing and I think that helped guide me in the direction of becoming a nurse educator. When I am not nursing, I am with my family traveling, outdoors, or working on some type of renovation project. I am looking forward to my new role as a faculty member at UW! 
 ----------
Shannon Schneider labels the following photo, "Back to the old neighborhood".  All three of Shannon's boys were born in Colorado. "This summer as part of our travels," says Schneider, "we went out west to visit our old stomping grounds. Colorado is the state I have lived in the longest in one straight stretch (10 years). My husband and I are both retired military brats."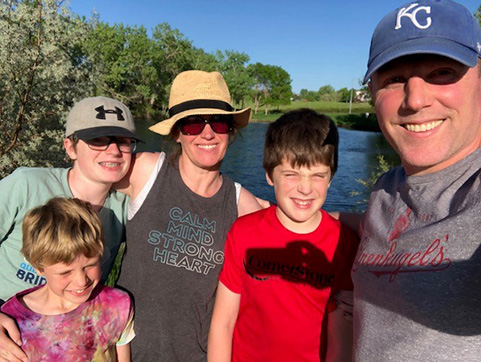 ----------
Page placed: 8/26/2021