David Bodily gives Update
ReNEW & RN-BSN Completion Programs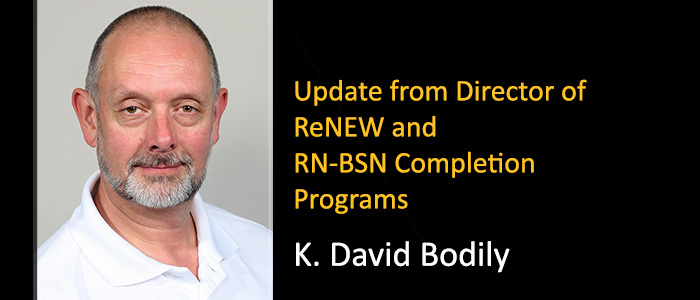 Bodily Background / Update on ReNEW Program / Update on RN-BSN Completion Program
Background makes Bodily a "near-perfect fit"
...as Director of ReNEW and RN-BSN Completion Programs
Interest in nursing comes through family
David is a long-time resident with deep roots in Wyoming. He recounts, "I grew up in Salt Lake City and remember looking forward to summers and holidays with my grandparents in Kemmerer. We were outdoors a lot, camping and fishing and such." Ultimately, family brought Bodily to Wyoming . "I spent time in college, time in high-tech telecommunications, time on my own, and time working at my own business. As my grandparents aged, they needed more and more help in order to stay at home. I was the person in the family able to move in with them in their last years." This live-in care brought the idea of professional nursing to David. "I worked weekends in Salt Lake many of the years I spent in Kemmerer, thanks to respite provided by a brother and my mother. They were both Registered Nurses and our weekly 'shift reports' influenced me. Ultimately, I caught wind of the nursing program at WWCC--Western Wyoming Community College."  
Interest in education follows with an appreciation of distance delivery
After transferring coursework from the University of Utah and completing pre-reqs through WWCC outreach options, Bodily was accepted into the WWCC Nursing Program. "Grampa had passed and Grama was safe alone, but I wasn't sure how I would attend school in Rock Springs. As it turned out, Grama passed before I entered the program on campus. Looking back, this was the first time I recognized the value of distance delivery." Bodily was instantly attracted to Nursing Education. "The 'art and science' of nursing drew me in and I remember faculty discussing their reach and influence as educators. By this time, my mother was a nursing professor at Westminster in Salt Lake. Nursing is noble work, education is noble work. My path was clear. "
Concurrent practice + education "clarify & cement" one another
Bodily pursued practice and education concurrently. "I earned my baccalaureate degree from the University of Wyoming while practicing at South Lincoln Medical Center in Kemmerer. I couldn't have created better circumstances. My nursing shifts were interleaved with coursework. Each clarified and cemented the other. I was further impressed with Nursing Education." After earning his BSN, David left Wyoming. When an opportunity to teach arose, he returned. "I had relocated and was practicing as a bachelors-prepared RN. During a conversation with a mentor and colleague, I learned of a nursing faculty opening at WWCC. Yes, I DID leave Maui for Rock Springs!"
Concurrent teaching + education create synergy
David taught in the WWCC Nursing program for seven years. "I finished my Masters' degree -- from the University of Wyoming -- while teaching full-time. Again, the synergy between my work and my education was phenomenal." After WWCC, Bodily took a Program Director position at Casper College, where he spent three years helping the School of Health Science launch an interdisciplinary Simulation Education Program that was accredited by the Society for Simulation in Healthcare. 
David now serves as the ReNEW and RN-BSN Program Director at the Fay W. Whitney School of Nursing. He sees this position as a "near-perfect" fit for his background and expertise. "I couldn't have created a more spot-on job description or progression for myself. I'm passionate about Nursing Education. I'm a product of Wyoming higher education and of the FWWSON. The Associate Degree to RN-BSN pathway is lived experience for me. My time as nursing faculty at a Community College gives me very real perspective to bring to the ReNEW collaboration--I 'speak the language'. Being directly involved in ReNEW work at the FWWSON allows me to draw on the expertise and learn the perspective of the educators here. I am in a position to serve as a conduit and a repository for VERY noble work done by collaborators across the state. This is a great place to be."
Update on ReNEW Program
From Bodily, as ReNEW Program Director (ReNEW = Revolutionizing Nursing Education in Wyoming): "These are exciting times. Participating community colleges have launched the first semester of the shared ReNEW nursing curriculum. I'm seeing years of effort and hard work on the part of many collaborators come to fruition. I've been able to check in with every ReNEW school. I've had high-spirited discussions with innovative and enthusiastic faculty and supportive program directors. Work is underway at the University of Wyoming Fay W. Whitney School of Nursing (FWWSON) to prepare for for these graduates and to launch the ReNEW curriculum here. I am watching as ReNEW undertakes to fulfill its mission 'to enhance the quality of nursing and health care in Wyoming by revolutionizing nursing education' and I'm grateful to be a part of that. Before the end of this semester, I'll be visiting with ReNEW students around the state. I'm eager to hear their perspective. I'll be collating what I learn from everyone I interact with about ReNEW. I'll work to translate it all into best practices and communication channels. This is a big and important undertaking, and I'll strive to keep abreast of it as it evolves."
Update on RN-BSN Completion Program
From Bodily, as RN-BSN Completion Program Director: "I'm pleased to be able to serve the RN-BSN program. As a graduate, I understand how indispensable this option is for learners who have full lives but are willing to work to further their education. Our program contributes to the health of our state and the nation in a tangible way, given that we are able to serve students outside Wyoming. It's a testament to the hard work and expertise of the RN-BSN staff that they've been able to take on and educate a new director with only minimal interruption to operations. Moving forward, the RN-BSN program will be preparing for program review ahead of an upcoming re-accreditation review. We will also be investigating how we can serve the ReNEW effort, undergraduate students, and the FWWSON. We will be discussing our interfaces, alignments, and common objectives with other programs here at the FWWSON."
-----
Story posted: 10/27/2016