J'Laine Proctor
2016 Communication of Wisdom Award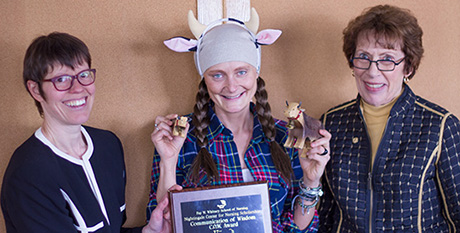 Pictured Above:
Ann Wislowski, 2015 COW Award Winner; J'Laine Proctor, 2016 COW Award Winner; Pamela Clarke, award presenter.
----------
Congratulations go to J'Laine Proctor, FNP, PMHNP, DNP, faculty member with the UW School of Nursing and winner of the school's "Communication of Wisdom" or "COW" award for 2016. Proctor won the award based on her interactions with students and colleagues.
Pamela Clarke, award presenter, read the following about Proctor prior to presenting the award:
Jill is an incredibly wise member of our faculty. She approaches her teaching with humility, kindness, gentleness, respect, and a light and positive spirit. Jill is a living example of the "open door" policy. Students know they will receive honest, sometimes critical, feedback from Jill. At the same time, they feel supported and nurtured. They never doubt that they can go to her for understanding and guidance, and that they will be listened to, respected and supported. Furthermore, Jill respectfully approaches students when she perceives that they are not living up to their potential. This takes wisdom and courage, as well an ability to envision the best in others.

Jill is also a hard-working, conscientious colleague. She approaches, meetings, retreats, and projects with her sleeves rolled up, ready to dig in! Even though she has only been on the faculty for a year and a half, her insight into curricular, student, and organizational issues is amazing. With Jill in our midst, faculty make better decisions and come away a little wiser.

Jill's wise and positive spirit is deeply rooted. We are so fortunate to have her in the School.
Proctor teaches in the Doctor of Nursing Practice (DNP) program with the UW Fay W. Whitney School of Nursing in the Family Psychiatric Mental Health Nurse Practitioner option.
----------
Updated: 5/2/2016