Capstone Practicum: Liz Mondragon
Cheyenne Regional Medical Center's Wound Clinic...
I had a great experience in the wound clinic. All of the nurses there were incredibly welcoming and I learned so many new things. I had the opportunity to work in the outpatient clinic as well as going upstairs to see inpatients. I was able to see a wide variety of wounds and learned many different healing techniques. Wound care is so great since you can see the progress your patients are making week by week and know that you are helping in that process. It can also be difficult at times because no two wounds are the same and you have to be creative in the techniques you use.
CRMC Medical Unit...
I have also had the opportunity to work on the medical unit with some great nurses. Medical has allowed me to work on all of my assessment and other nursing skills; to work with many different types of patients' and to see varying disease processes.
"There is only so much that you can learn from a book..."
I feel that both of my capstone rotations have better prepared me to enter the nursing field. The nurses I have worked with have all been supporting of my learning and encouraging of my future as a nurse. It has been great to put all of the knowledge and skills that I have learned the last two years into practice. There is only so much you can learn from a book, so being able to see it first hand has really made it all come together for me. I have enjoyed all of the areas I have had the opportunity to work in throughout nursing school and have been lucky to have such great nurses as role models.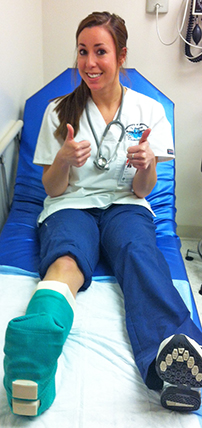 This picture shows Liz in her first week in the wound clinic. "They had me try a cast on so that I was aware of how difficult it can be for our patients to have to walk in those every day."